What is a "Call Extension"?
An extension is the standard name given by Google Adwords to a type of ad format that shows extra information ("extending" from your text ads) about your business. More information can be found here.
There are several different types of extensions.  In the "Call Extension" type, the phone number is included in a search ad and can be called directly from the search results in Google.  It is mainly used in mobile format, so people is able to tap a phone button and directly call the advert number.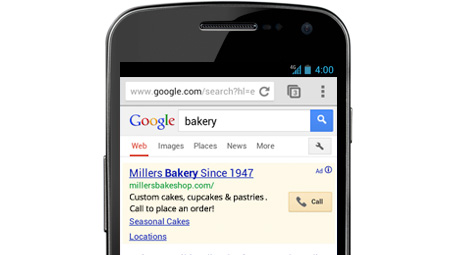 You can find more information here.
You can also use this Google Adwords extension and see your calls tracked within the Calltracks interface.  In order to do this, you will need to create a new advert with and static number in the Calltracks interface by following these instructions.
It is important you classify these types of adverts with the media title "Google PPC" for reporting proposes. If you wish to add a new media title, then please follow these instructions.
Once you do, add the phone number in Google Adwords.