One of the most important things to understand about your inbound call list is how your customers are calling you. The Inbound Call List will help you identify if you are receiving calls to your dynamic numbers or to your static or default number. In order to see that, go to Calls -> Inbound Calls.
In the example below we can see that there are two types of inbound calls. Firstly to the static number and then to a dynamic number: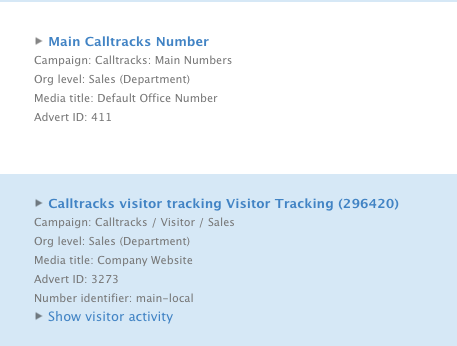 As you can see, the call made to a dynamic number is labelled "Calltracks visitor tracking Visitor Tracking" and comes with additional information, such as visitor activity which can be displayed by clicking on the "Show visitor activity" arrow.
By clicking this arrow following information regading the visit will be displayed:

The main benefit of having a dynamic configuration set up like above, is that Calltracks can gather all this information about your website visitors, which is not accessible with static numbers.