Another powerful reporting tool that allows you to see how your outbound calls have been handled is the ''Outbound calls'' report. This can be found in the "Reports" menu option and go to sub menu ''More Reports''.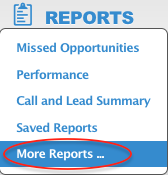 As you may already know, the Calltracks platform has a set of standard reports already created to make your job easier and to assist you in reviewing your data in the most efficient way. In this case, you need to select ''Outbound Calls'' under the Call Reports section and hit run.

Now you will need to set the parameters to generate the Outbound call report (as shown below). Make sure your

button is on in order to see the parameter options as shown below.

There are various ways to create and sort your report. Below explains what each field that has been marked red means:
A) Org level >> Filter by branch/department/location within your business structure
B) Group report by >> You can group your report by outbound users/agents. See bottom example.
C) Org level type >> Filter by type of label you've given to each department
D) Date period >> Specify period of date you want data for
E) Run as user >> Generate report as a certain user in the web interface
F) Saved Reports >> For better understanding on saved reports and how to use this option please see Knowledge Base article ''How to use saved reports''
Once you have selected your parameters you will need to click on ''Generate Report'' and if valid, your data generated. See below example.

To export these directly to your computer in a CSV file click on

.
Group by Outbound caller
If you need to specifically group your report by the outbound caller(s) your parameter (at the top) will be set like this:

And the example data result: