Please note, if you need a large number of adverts created these can be done in bulk please submit a support request.
To create new a tracking number for advertising, for example in an email campaign or in a brochure you will need to create a new static advert.
This can be done by clicking 'Campaigns', 'Campaigns list'.
A campaign is the container/folder for the adverts, so you can select an existing campaign or create a new one (How to create a campaign) by selecting '+ New campaign' at the top right of the interface.
Now follow the eight steps below:
In a campaign folder, click '+ New advert'
Enter Advert Name
Select 'Media' (your pre-defined options)
Select "Media Title" (similar to 'Media', these are also pre-defined)

Pick the type of tracking number you want to use (local geographic / national etc)

Pick the number you would like to forward the calls to

Enter an 'End date' (allows enhanced reporting)
Click 'save'
You will then be presented with a new tracking number that you can use.​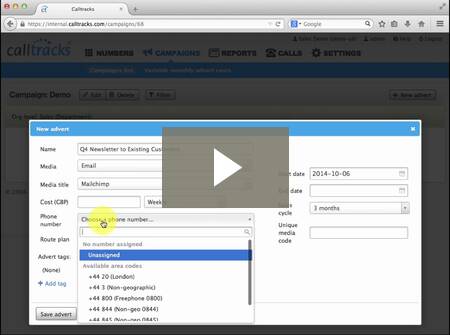 ​Once Calltracks have assigned the new telephone number(s); be it national, international or geographic, you can repeat the steps above to create additional adverts for static numbers.