Microsoft Ads Integration
To have this enable on your account, simply raise a ticket with the Calltracks support team to confirm you would like this as part of your set-up. We will use the Microsoft Click ID to help you track the call conversions, the Microsoft Click ID is automatically enabled when setting up an offline conversions goal.
Tracking will only happen from the point that we are provided the Microsoft Click ID.
In order for to be able to track calls in Microsoft ads, you will need to set up a UET tag within Microsoft ads. If you haven't done this already please refer to the Microsoft ads help guide here. You will need to set up an offline conversions goal in the Microsoft Ads portal.
To create an Offline conversions goal you will need to go to:
Tools (in the top navigation menu) > Conversion tracking > Conversion goals

Then click on Create Conversion Goal.

Creating Conversion Goal
From the conversion options select Offline then click next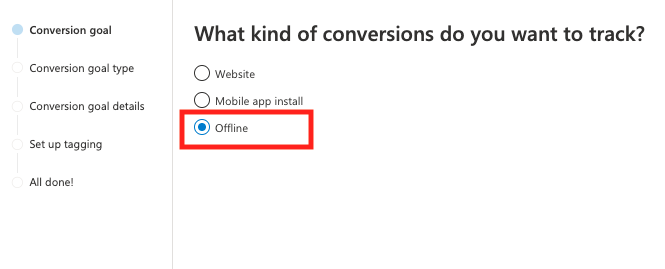 Conversion Goal Type
From the drop-down select Other
Under Goal Type > Offline conversions then click next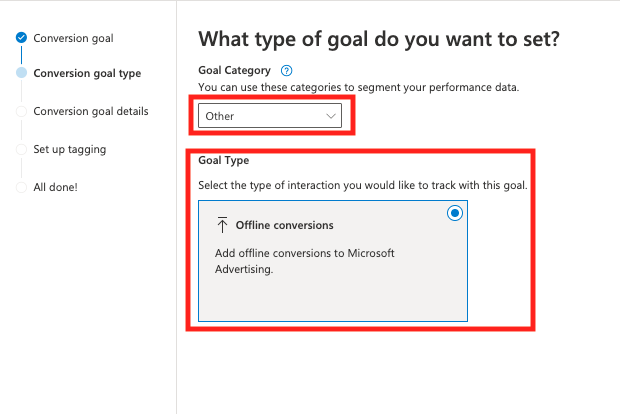 Goal Settings (see image below for visual option)
Fill in these options:
Name - Phone call
Under Revenue Value select - Don't assign a value
Scope - select your main account (multiple accounts can be used but will require testing)
Under Count, select Unique
Conversion window, amend to 90 days
Include in conversions (Optional)
Click Yes if you want it to be included in the conversion table this will also affect automated bidding
Save and next
For offline conversions to work, you'll need to complete the following steps before you import your conversions.
Capture the click ID in the URL that customers click from one of your ads.
Download the import template and make sure column names and your offline conversions data are formatted correctly.
If your servers redirect ads clicks, verify that the Microsoft Click ID (MSCLKID) URL parameter is passed to your landing page.
Upload offline conversions
Click tools
Offline Conversions
Click Upload
Select the file (instructions below for the template needed)
Upload and Preview
Apply changes
To export the Microsoft data from the Call tracks portal, once the support team have confirmed the Microsoft Ads tracking this has been set up for you (and the above steps have been followed). You will need to export a report called Microsoft Advertising Offline Conversions to find this report go to reports > more reports> export as CSV. You need to upload the report to Microsoft ads as either a csv. or excel file. (template can be found on this page)
Below is an example of the report you will receive.

Please note, there is a cell in the report that relates to times zones, as a default this is set to +0000 GMT timezone (UK clients set to +0000). If you want to change the time zone you will need to adjust the cell to ether + or - hours, the timezone format Microsoft Ads accepts can be found here.