Microsoft Ads Integration
To enable this, simply raise a ticket with the Calltracks support team to confirm you would like this as part of your set-up. We will use the Microsoft Click ID to help you track the call conversions, the Microsoft Click ID is automatically enabled when setting up an offline conversions goal.
In order for you to be able to track calls in Microsoft ads, you will need to set up a UET tag within Microsoft ads if you haven't done this already please refer to the Microsoft ads help guide here, you will need to set up an offline conversions goal in the Microsoft Ads portal.
To create an Offline conversions goal you will need to go to Tools (top menu), Conversion tracking > (click) Conversion goals.

Click Create Conversion Goal.

Goal Description
Enter Name - Phone call
Type - Offline Conversions
Click, Next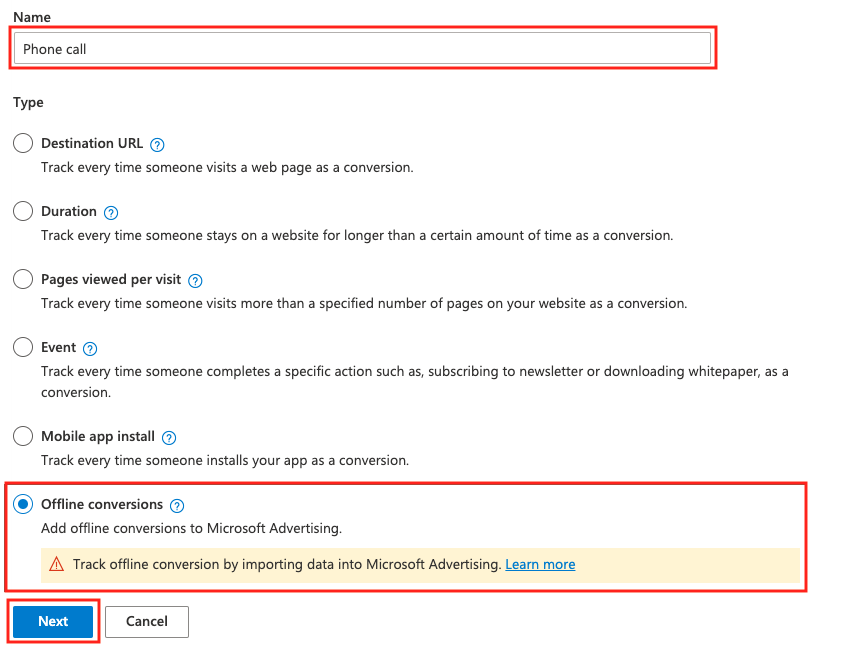 Goal details
From the drop-down in Goal Category select - Contact.
Select the account you wish to track calls for under scope. for example - Calltracks
Under Revenue Value select - Don't assign a value
Under Count, select Unique
Conversion window, set at 90 days
Include in conversions (Optional)
Save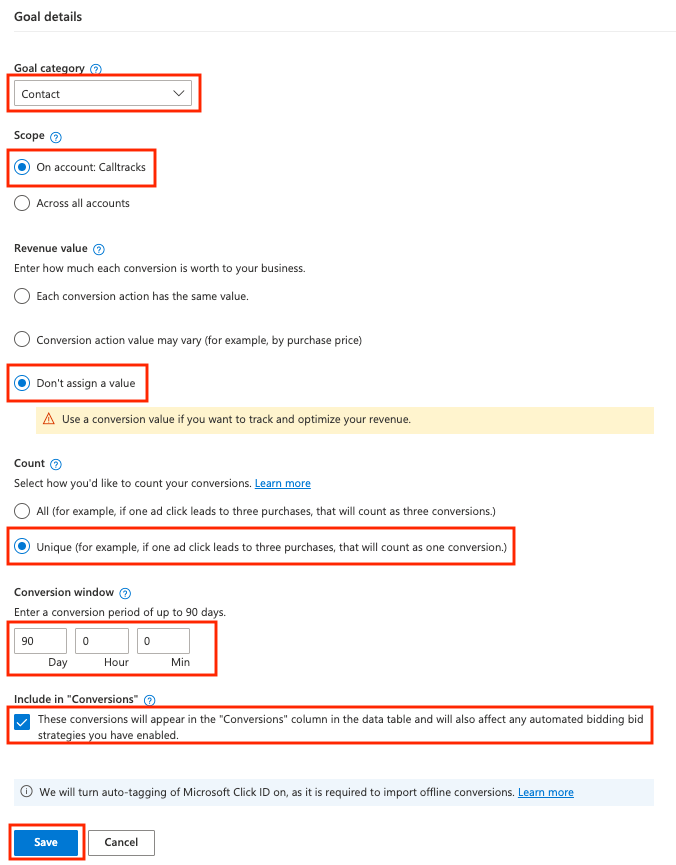 To export the Microsoft data from the Call tracks portal, once the support team have confirmed the Microsoft Ads tracking this has been set up for you (and the above steps have been followed). You will need to export a report called Microsoft Advertising Offline Conversions to find this report go to reports > more reports> export as CSV. You need to upload the report to Microsoft ads as either a csv. or excel file.
Below is an example of the report you will receive.

Upload offline conversions
1. Click upload
2. Select the file that you want to upload
3. Upload and Preview
4. Apply changes.
Please note, there is a cell in the report that relates to times zones, as a default this is set to +0000 GMT timezone. If you want to change the time zone you will need to adjust the cell to ether + or - hours, the timezone format Microsoft Ads accepts can be found here.