Calltracks is likely to be widely used across several levels within your company. Our software allows for users to have different levels of access to the interface, with different permissions specifically tailored for the different company roles.
Super Admins and local Admins have the ability to create profiles for other users in their organisation. If you as Super Admin or local Admin would like to create new users, please go to Settings >> Users >> New users.

​​The "assigned role" field enables you to set the correct level of access to this new user's profile.  If you need help understanding what the different roles types have access to, please read the following article, "User profiles and what they mean".
Select the relevant organisation level, that the user should have access to by ticking relevant box as show below. (Click on edit in the user list, to make adjustments to existing users)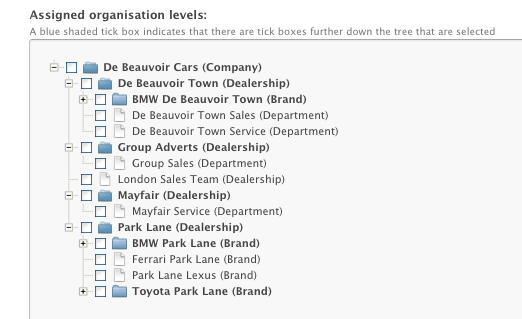 Then click the create button for a new user or update button for an existing user.
If you wish to create outbound pin numbers for this user please see article ''How to set up pin numbers''